34 days prior to the season kick-off, on 04th May at Hockenheim, the preparations for the 2014 DTM season have entered their hot phase. On Monday morning, a total of 11 drivers representing Audi, BMW and Mercedes-Benz began the four official ITR test days at Budapest's Hungaroring. For the new vehicles for the 2014 season – the Audi RS 5 DTM, BMW M4 DTM and DTM Mercedes AMG C-Coupé – it was the first clash of the year.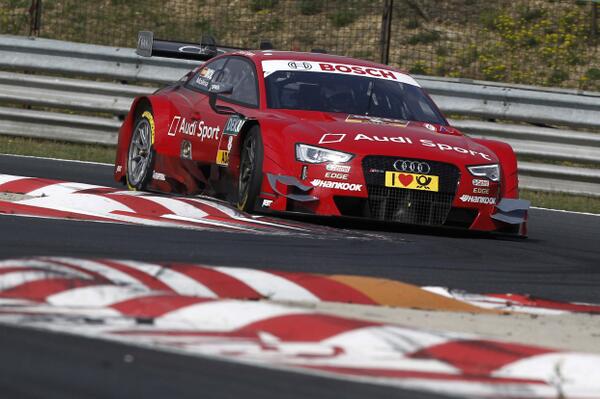 In sunny conditions, Miguel Molina proved to be the quickest. With his Audi RS 5 DTM, he crossed the line in 1:37.792 minutes, thus being the only driver to break the 1:38-minute barrier. Behind the Spaniard, his fellow Audi drivers Jamie Green (the quickest in the morning session), Adrien Tambay and reigning champion Mike Rockenfeller finished second, third and fourth respectively.
Behind the Audi's, four BMW's finished fifth to eighth on the time sheets. Bruno Spengler set the fastest lap time of the BMW drivers, followed by the two newcomers Maxim Martin and Antonio Felix da Costa as well as Joey Hand in another three BMWs M4 DTM. Behind the Bavarian's quartet, the Mercedes-Benz camp was represented by DTM returnee Paul Di Resta, Gary Paffett and newcomer Vitaly Petrov at the wheel of the three DTM Mercedes AMG C-Coupés.
The busiest driver on Monday was Bruno Spengler. The Canadian completed 109 laps, representing a total mileage of 477.529 kilometres. His fellow BMW driver Joey Hand also broke the 100 lap barrier by completing 102 laps. Meanwhile, Jamie Green (93 laps) was the busiest Audi driver and Gary Paffett (73) covered the biggest distance of the Mercedes-Benz drivers.
The first day of testing proved to be slightly shorter than scheduled. In certain sections of the 4.381-kilometre Formula 1 circuit, track-surface problems hampered the test action and so, the tests were stopped two hours earlier than scheduled to offer the track operators the chance of applying new tarmac where necessary. Therefore, the teams and drivers will be allowed to test an hour longer than scheduled both on Tuesday and Wednesday.
On both days, the test action will end at 18:00hrs instead of 17:00hrs. On Thursday, however, the tests will be carried out as scheduled, from 09:00 to 12:00hrs and 13:00 to 17:00hrs. And from 14th to 17th April, the teams and drivers will have the chance of testing for another four days at the Hockenheimring Baden-Württemberg.
Miguel Molina (Audi RS 5 DTM): "It's just great to be back behind the wheel, after the long off-season. Audi Sport did a great job developing the new Audi RS 5 DTM: the new car feels great right from the start and the Hungaroring seems to suit it well. It goes without saying that we still have got a lot to learn but the first day with my new squad – Audi Sport Team Abt Sportsline – my engineer and the mechanics was positive and productive. Now I also look forward to the race at the Hungaroring. I always was fast at this circuit and already made it to the podium, here. I believe it will be a great DTM venue."
Bruno Spengler (BMW M4 DTM): "Up to the early end of the tests, things went rather well for us. We could complete 109 laps without encountering any problems – that's a solid result. We definitely are on the way in the right direction. I truly enjoyed being back in the car – particularly at this great circuit. It offers absolutely everything and the mix of corners is very interesting. As driver, you have to work at the wheel all the time. When you're back working closely together with the team, after the off-season, you quickly get back in the racing mode. And that's just great."
Paul Di Resta (DTM Mercedes AMG C-Coupé): "It's nice to be back here in Budapest. Generally I think we were walking through the program, trying to make sure we could learn a bit more about the car. Unfortunately it stopped two hours earlier as scheduled on Monday. Tomorrow we obviously will be busy and try to optimize the new package as much as we can."
Testing times, Monday, 31st March, day one completed:
1st Miguel Molina (ESP) Audi RS 5 DTM 1:37.792 minutes
2nd Jamie Green (GBR) Audi RS 5 DTM 1:38.200
3rd Adrien Tambay (FRA) Audi RS 5 DTM 1:38.518
4th Mike Rockenfeller (DEU) Audi RS 5 DTM 1:38.842
5th Bruno Spengler (CAN) BMW M4 DTM 1:39.242
6th Maxime Martin (BEL) BMW M4 DTM 1:39.549
7th Antonio Felix da Costa (PRT) BMW M4 DTM 1:39.666
8th Joey Hand (USA) BMW M4 DTM 1:39.679
9th Paul Di Resta (GBR) DTM Mercedes AMG C-Coupé 1:40.383
10th Gary Paffett (GBR) DTM Mercedes AMG C-Coupé 1:40.434
11th Vitaly Petrov (RUS) DTM Mercedes AMG C-Coupé 1:40.741