Marc Márquez set the fastest time again in the second day of preseason testing in Sepang, Malaysia.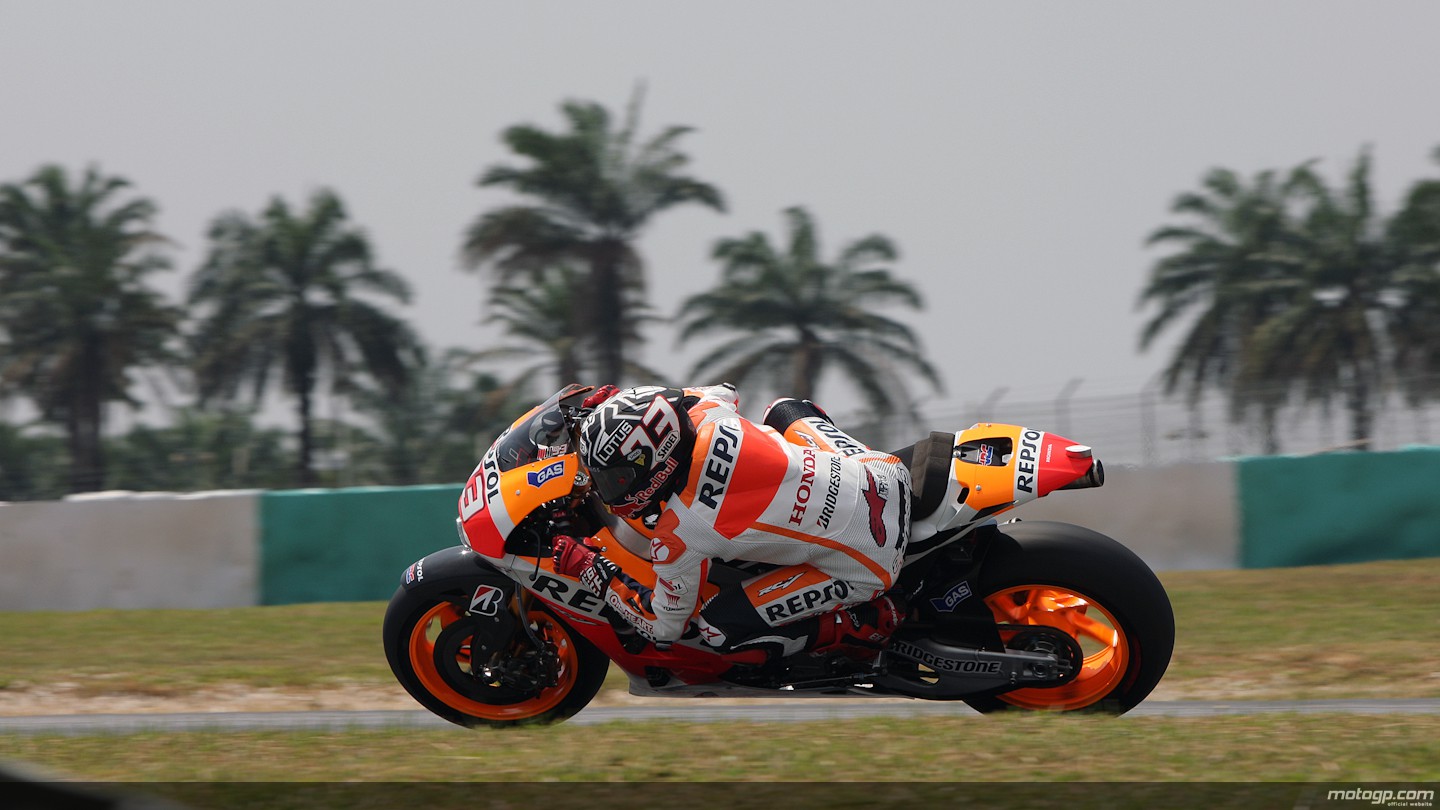 The MotoGP World Champion broke the two minutes barrier with a time of 1:59.926, only three tenths away from Casey Stoner's preseason time from 2012. Márquez was four tenths ahead of his teammate Dani Pedrosa. The Honda top three was completed by Stefan Bradl, only three thousandths away from Pedrosa.
Valentino Rossi finished the day as the best Yamaha bike in fourth place. Jorge Lorenzo was sixth with Aleix Espargaró between the two official Yamaha bikes and being the best Open bike. Bradley Smith, Andrea Iannone, Álvaro Bautista and Pol Espargaró closed the top ten.
Results:
1
MARQUEZ, Marc
Repsol Honda Team

1:59.926

38 / 65

2
PEDROSA, Dani
Repsol Honda Team

2:00.336

0.410

0.410

12 / 62

3
BRADL, Stefan
LCR Honda MotoGP

2:00.339

0.413

0.003

13 / 52

4
ROSSI, Valentino
Yamaha Factory Racing

2:00.464

0.538

0.125

18 / 61

5
ESPARGARO, Aleix
NGM Mobile Forward Racing

2:00.547

0.621

0.083

16 / 42

6
LORENZO, Jorge
Yamaha Factory Racing

2:00.573

0.647

0.026

27 / 49

7
SMITH, Bradley
Monster Yamaha Tech 3

2:00.603

0.677

0.030

27 / 66

8
IANNONE, Andrea
Pramac Racing

2:00.855

0.929

0.252

9 / 49

9
BAUTISTA, Alvaro
GO&FUN Honda Gresini

2:00.897

0.971

0.042

51 / 55

10
ESPARGARO, Pol
Monster Yamaha Tech 3

2:01.061

1.135

0.164

4 / 49

11
DOVIZIOSO, Andrea
Ducati Team

2:01.146

1.220

0.085

8 / 45

12
CRUTCHLOW, Cal
Ducati Team

2:01.396

1.470

0.250

11 / 48

13
PIRRO, Michele
Ducati Test Team

2:02.177

2.251

0.781

6 / 56

14
HAYDEN, Nicky
Drive M7 Aspar

2:02.287

2.361

0.110

25 / 58

15
EDWARDS, Colin
NGM Mobile Forward Racing

2:02.545

2.619

0.258

8 / 35

16
HERNANDEZ, Yonny
Energy T.I. Pramac Racing

2:02.675

2.749

0.130

13 / 45

17
AKIYOSHI, Kosuke
HRC Test Team

2:02.692

2.766

0.017

8 / 68

18
AOYAMA, Hiroshi
Drive M7 Aspar

2:02.825

2.899

0.133

65 / 66

19
NAKASUGA, Katsuyuki
Yamaha Factory Test Team

2:02.970

3.044

0.145

49 / 56

20
DE PUNIET, Randy
Suzuki Test Team

2:03.064

3.138

0.094

73 / 96

21
REDDING, Scott
GO&FUN Honda Gresini

2:03.117

3.191

0.053

39 / 53

22
LAVERTY, Michael
Paul Bird Motorsport

2:03.528

3.602

0.411

37 / 41

23
BARBERA, Hector
Avintia Racing

2:04.551

4.625

1.023

2 / 37

24
PARKES, Broc
Paul Bird Motorport

2:04.619

4.693

0.068

42 / 43

25
ABRAHAM, Karel
Cardion AB Motoracing

2:05.261

5.335

0.642

21 / 32

26
DI MEGLIO, Mike
Avintia Racing

2:05.355

5.429