Marc Márquez set the best time once again in the third and final day of preseason testing in Sepang.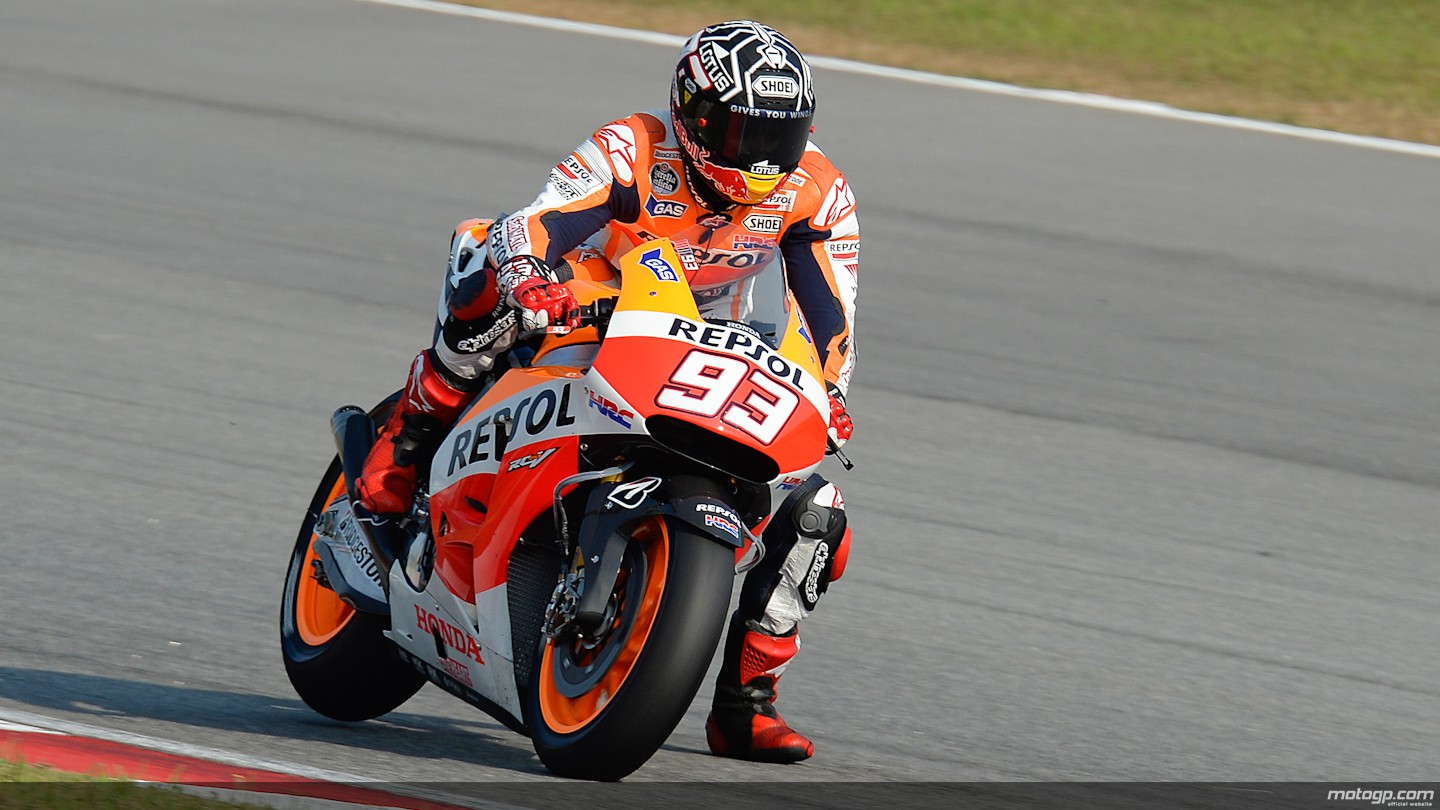 The MotoGP World Champion dominated again in this final session and beat the record time of Casey Stoner in 2012 with a 1'59.533. The official Yamaha bikes were stronger today and Valentino Rossi finished two tenths behind Márquez, followed by his teammate Jorge Lorenzo, three tenths away from the best time.
Aleix Espargaró impressed again with his Open bike and finished in fourth place, four tenths behind Márquez. The Honda bikes of Stefan Bradl and Dani Pedrosa couldn't break the two minutes barrier and finished in fifth and sixth position. The top ten was completed by Andrea Dovizioso, Pol Espargaró, Andrea Iannone and Álvaro Bautista.
Results:
1
MARQUEZ, Marc
Repsol Honda Team

1:59.533

10 / 40

2
ROSSI, Valentino
Yamaha Factory Racing

1:59.727

0.194

0.194

11 / 55

3
LORENZO, Jorge
Yamaha Factory Racing

1:59.866

0.333

0.139

2 / 65

4
ESPARGARO, Aleix
NGM Mobile Forward Racing

1:59.998

0.465

0.132

7 / 43

5
BRADL, Stefan
LCR Honda MotoGP

2:00.112

0.579

0.114

11 / 38

6
PEDROSA, Dani
Repsol Honda Team

2:00.223

0.690

0.111

29 / 55

7
DOVIZIOSO, Andrea
Ducati Team

2:00.370

0.837

0.147

10 / 40

8
ESPARGARO, Pol
Monster Yamaha Tech 3

2:00.655

1.122

0.285

8 / 65

9
IANNONE, Andrea
Pramac Racing

2:00.725

1.192

0.070

13 / 57

10
BAUTISTA, Alvaro
GO&FUN Honda Gresini

2:00.788

1.255

0.063

3 / 63

11
SMITH, Bradley
Monster Yamaha Tech 3

2:00.896

1.363

0.108

10 / 65

12
CRUTCHLOW, Cal
Ducati Team

2:01.057

1.524

0.161

58 / 58

13
HAYDEN, Nicky
Drive M7 Aspar

2:01.514

1.981

0.457

21 / 59

14
EDWARDS, Colin
NGM Mobile Forward Racing

2:01.731

2.198

0.217

41 / 47

15
PIRRO, Michele
Ducati Test Team

2:01.782

2.249

0.051

12 / 67

16
AOYAMA, Hiroshi
Drive M7 Aspar

2:02.383

2.850

0.601

61 / 66

17
DE PUNIET, Randy
Suzuki Test Team

2:02.486

2.953

0.103

17 / 67

18
HERNANDEZ, Yonny
Energy T.I. Pramac Racing

2:02.556

3.023

0.070

31 / 65

19
AKIYOSHI, Kosuke
HRC Test Team

2:02.619

3.086

0.063

3 / 58

20
NAKASUGA, Katsuyuki
Yamaha Factory Test Team

2:02.788

3.255

0.169

13 / 38

21
REDDING, Scott
GO&FUN Honda Gresini

2:02.833

3.300

0.045

42 / 60

22
LAVERTY, Michael
Paul Bird Motorsport

2:03.187

3.654

0.354

12 / 41

23
BARBERA, Hector
Avintia Racing

2:03.204

3.671

0.017

49 / 54

24
PARKES, Broc
Paul Bird Motorport

2:03.402

3.869

0.198

40 / 43

25
DI MEGLIO, Mike
Avintia Racing

2:04.516

4.983

1.114

28 / 58

26
AOKI, Nobuatsu
Suzuki Test Team

2:05.686

6.153

1.170

10 / 12

27
ABRAHAM, Karel
Cardion AB Motoracing

2:05.974

6.441

0.288

6 / 12