The F1 halo's induction has created diversity of opinions. The most faithful fans think that it will make a big impact in the F1 design as we know. But, will halo actually make that we have the worst desing in the top category's history? In Fòrmula Ràpida, we have made a compilation about the worst designs, aerodynamics and liveries. If you think that the halo is "ugly", you will change your opinión after this article.
Manor MR03 (2015)
We beagin this article with a present car. It isn't ugly, but, it seems a low category car and his performance was as slow as one of it. It didn't look like a Formula 1 and it was slower than the other cars on grid.
Copyright: Creative Commons
Minardi PS02  (2002)
They made a beautyfull car combinning balck and White the previous year. In 2002, they launched a car that was… different. I don't think that the Egypt's flag colors in the front (without a really reason) make them good, neither the Malaysian flag in the rear wing during home Grand Prix.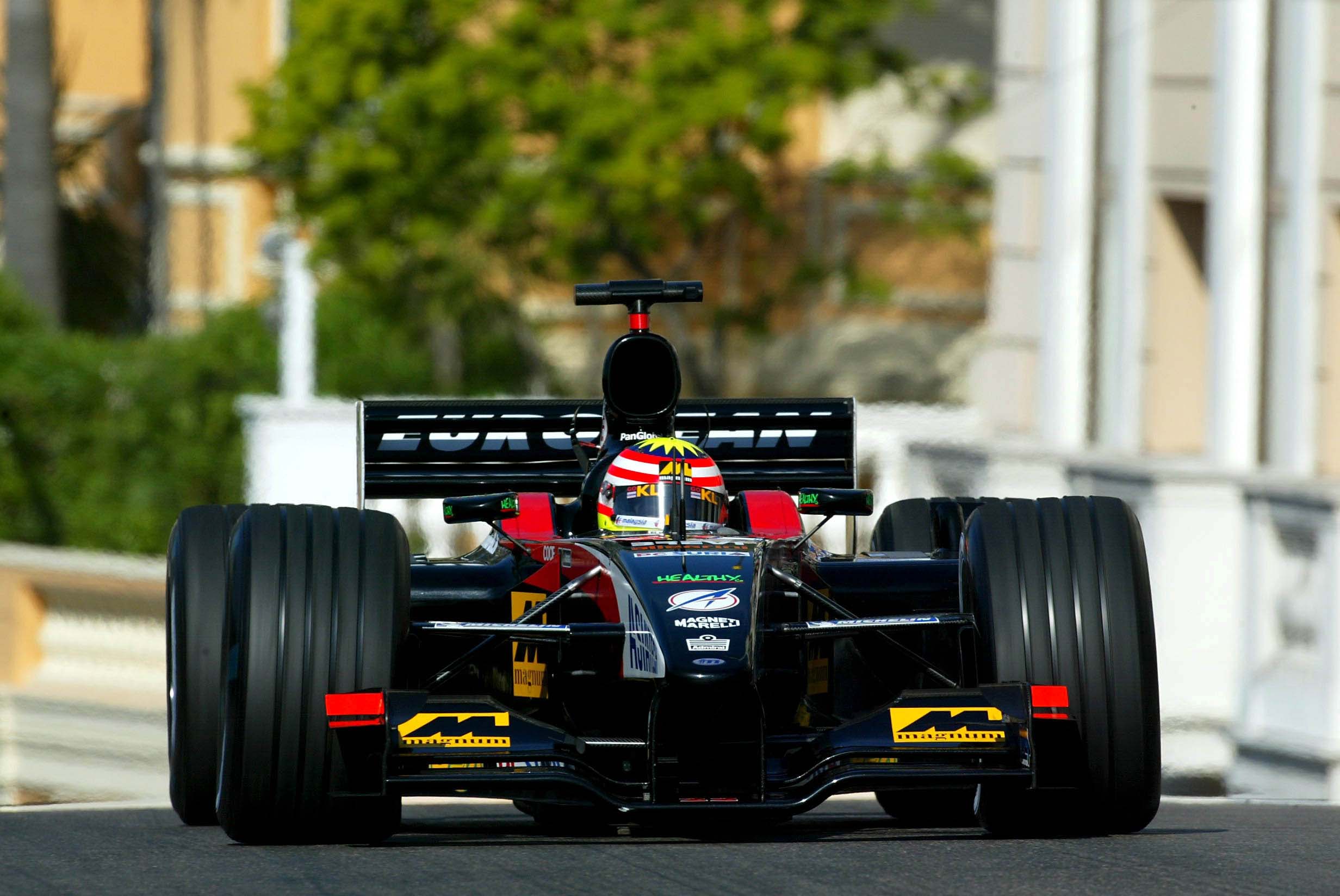 Copyright: Minardi
Sauber C31 (2012)
The swiss team weren't in their best economic time since the arrival of Sergio Perez as main driver. It suposed an important capital injection but it didn't bring an aesthetic car. Their colors were far to like to someone and the step in the front part of car confirmed that it wasn't the best Sauber's versión. However, the car achieved good results with a second place in Malaysian Grand Prix.
Copyright: Creative Commons
Honda RA107 (2007)
The tobacco brands left as sponsors in 2006, so the japanesse team had to left Lucky Strike and therefore they left the white color with the red and black circle. What was the solve? They proposed an "ecologic" car (everything they could do with V8 engines). How did they get it? With this livery of Earth in all the car.
Copyright: Creative Commons
Renault R27 y R29 (2007-2009)
Renault was another team affected by tobacco brands' escape. But it was easier to find a sponsor after winning the world championship. And that's how ING painted in orange the cars.
Copyright: Creative Commons
But if this design impacted, R29 broke everything with its front wing.
Copyright: Creative Commons
And it isn't the end, ING left his sponsorship after the famous Singapour's Crash-gate and bringing Renault to have a car without sponsors and ugly colors.
Copyright: Creative Commons
Williams FW20 i FW21 (1998-1999)
Four Driver's Championships with four different drivers in the last 6 years. That was the Williams' achievements since 1997, with Renault engine. Renault left and Rothmans too. But, they needen to left blue color also? Two seasons with red color made an unknown Williams. Karma by leaving their colors brough them to never win a tittle again and it seems that it isn't going to change this year.
1998:
Copyright: Creative Commons
1999:
Copyright: Creative Commons
Minardi  M01 i M02 (1999-2000)
Small times usually make colorful liveries to find Tv space and the 1999's Minardi was one…
Copyright: Creative Commons
And they broke plans in 2000. What did they think?
Copyright: Creative Commons
Brabham BT60 (1992)
It wasn't the livery at the begining of season. I don't know who thought that those colors was a good idea to an historic team in bad moments. Copyrigth: Silverstone
BAR B01 (1999)
Every history has a begining and BAR landed in F1 in 1999 with a different porpuse: 2 cars in 2 different colors; one in 555's blue and one in Lucky Strike's white and red.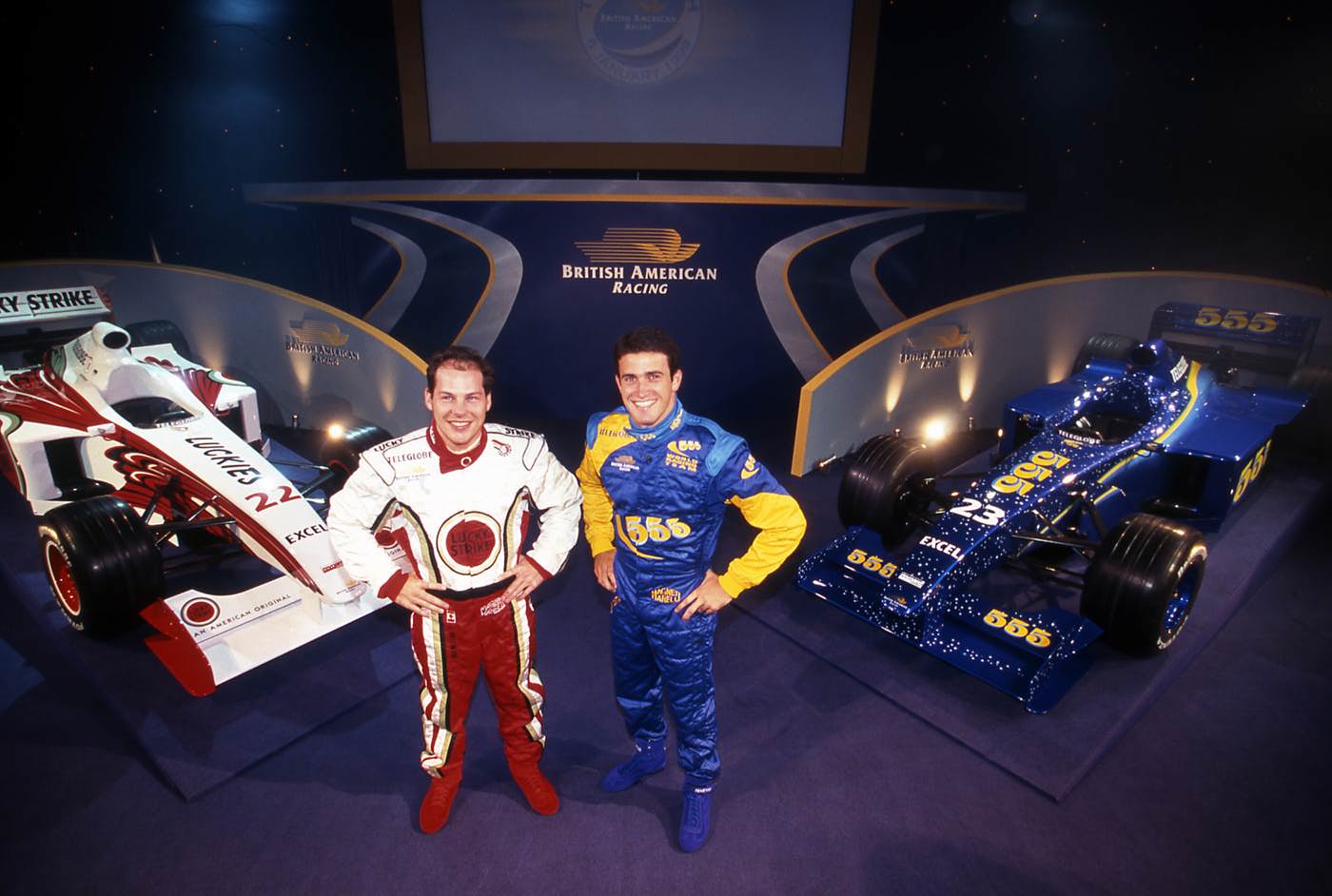 Copyright: British American Racing
The cars were beautyfull but Bernie Ecclestone didn't allow them to have two different cars and… pictures say everything…
Copyright: Creative Commons
Shadow  DN9 (1979)
If they wanted to scare people, they got it, but no because of their performance. This livery was the reason of many nightmares.
Copyright: Creative Commons
Lotus E22 (2014)
Lotus had a good performance with V8 engines and they decided to continue with Renault to begin Turbo's era in 2014. They had a good engine, so why wasn't their performance the best it could be? I can see it clearly, you just have to see their front wing…
Copyright: Creative Commons
Catterham CT05 (2014)
And if we talk about fornt wings in 2014, Catterham launched the antithesis.
Copyright: Creative Commons
BMW-Williams FW26 (2004)
Named "the walrus", Williams laucnhed an ugly car. The front wing was… so… different, but it was a winning car. It wasn't as good as the previous Williams but it won races.
Copyright: Creative Commons
Ligier JS5 (1976)
We are in a higher level beyond this point. Do you like Rock&Roll? It seems that this Ligiers likes. Have you seen this toupee? It is worthy of Elvis!
Copyright: Ligier
March Engineering 711 (1971)
It was another times, with design freedom and we cannot understand why did March opt to put his front wing over the nose.
Copyright: Creative Commons
Tyrrell P34 (1976)
I'm sure that it had a better performance but it is shocking to see 6 wheels in a F1 car. Tyrrell made it and it was absolutly LEGAL!! It would be unthinkable nowadays, but it was real 40 years ago. Do you imagine how long it takes changing tyres?
Copyright: Creative Commons
Arrows A2 (1979)
Everyone knows what does it mean Arrow and in 1979, the british team was more ambitious presenting… ONE BULLET? It wasn't as fast as one but it was look alike one.
Copyright: Creaative Commons
Lotus 49B (1969)
What can you do when you suffer oversteer? Lotus bring you the solve: equal the front part with the rear part with the same wing. We are lucky that it last one Grand Prix.
Ensign Racing N179 (1979)
These who suffer refrigeration issues is because they want, Ensign must have thought when they presented their N179. Not one, not two, but THREE radiators in the front. We know why they didn't qualify to Sunday's race.